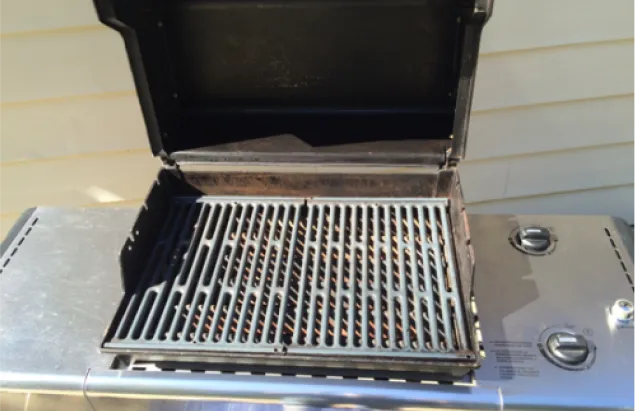 Maintenance Program
Monthly Check-Ups And Cleanings
Invest in your grilling passion and the longevity of your grill with our Monthly Grill Maintenance Program. Join the ranks of satisfied customers who enjoy hassle-free grilling year-round.
Contact us today to learn more about the program and how it can elevate your grilling experience!
Monthly check-ups and cleanings
All Grills:
Contact For Quote
Keeping You Grillin'
Invest in your grilling passion!
We know how much you love grilling and the incredible moments it creates, and that's why we offer our monthly grill Maintenance Program from BBQ Rescue. This program is designed to elevate your grilling experience and ensure that your grill remains in top-notch condition throughout the year.
Let us tell you why it's an essential investment for every grilling enthusiast.
Prolonged Grill Lifespan
Just like any other appliance, your grill needs regular care and attention to maintain its peak performance. Our Monthly Grill Maintenance Program helps extend the lifespan of your grill, ensuring that you can continue creating delicious meals for years to come.
Consistent Performance
A well-maintained grill delivers consistent cooking results. With our program, you won't have to worry about unexpected temperature fluctuations, uneven cooking, or unexpected breakdowns. Your grill will be finely tuned to perfection, ready to deliver the best grilling experience every time.
Expert Attention
Our skilled technicians are experts when it comes to grills. By enrolling in our program, you gain access to their expertise and insights. They'll catch potential issues early, prevent major problems, and provide you with tips and tricks to maximize your grill's potential.
Time and Effort Saving
Let's face it – cleaning and maintaining a grill can be a time-consuming task. With our Monthly Grill Maintenance Program, you can say goodbye to the hassle of deep cleaning and troubleshooting issues. We'll take care of it all, leaving you more time to focus on what you love: grilling and enjoying your favorite foods.
Preventive Care
Our program is all about preventive care. We identify and address minor issues before they snowball into major problems. This proactive approach saves you money by preventing costly repairs down the line.
Peace of Mind
We understand how frustrating it can be when a grill malfunctions right before a big barbecue. With our Monthly Grill Maintenance Program, you can grill with confidence, knowing that your grill is in prime condition and ready to perform whenever you need it.
Reviews From Our Grill Masters
★ ★ ★ ★ ★
"Amazing job! Our Grill looks brand new and the BBQ Rescue communication and follow-up was perfect from start to finish. I highly recommend this company!"
- Dan
★ ★ ★ ★ ★
"BBQ Rescue came to my "rescue" and I am now ready to stir things up. Highly professional, reliable and extremely knowledgeable about all things Weber Grill. With my ignition replaced and helpful cleaning tips, it's time to cook with grease."
- Donna 
★ ★ ★ ★ ★
"First time using the service for a deep gas grill cleaning. Hard to find folks to do the job well. Ronnie was a true professional. The inside is spotless."
- Michael 
**If you do not see your service area listed, please contact our team at BBQ Rescue for more information.**
Click our interactive map to the left to view the areas we cover. We do cover most of the greater Washington area. View the list below to see some of the areas, including the neighboring areas we cover.
Accokeek
Alexandria
Annapolis
Ashburn
Baltimore
Bethesda
Bowie
Crofton
Dundalk
Edgewater
Fairfax
Gaithersburg
Germantown
Glen Burnie
Largo
Laurel
Leesburg
Odenton
Olney
Pikesville
Potomac
Rockville
Severna Park
Silver Spring
Springfield
Towson
Tysons Corner
Upper Marlboro
Vienna
Washington DC